Fall Colors & Events
Fall in love with Duluth!

The season is changing here in Duluth, and with that change comes brilliantly colored fall leaves. The unique climatic effect of the world's largest freshwater lake creates a colorful palate in the Duluth region lasting mid-September through late October.
EXPERIENCE FALL IN DULUTH
Explore the Outdoors
Hike, bike, or walk one of the many trails throughout Duluth.
Hit the Road
Take a drive along one of Duluth's Scenic Byways:
FALL COLORS ATTRACTIONS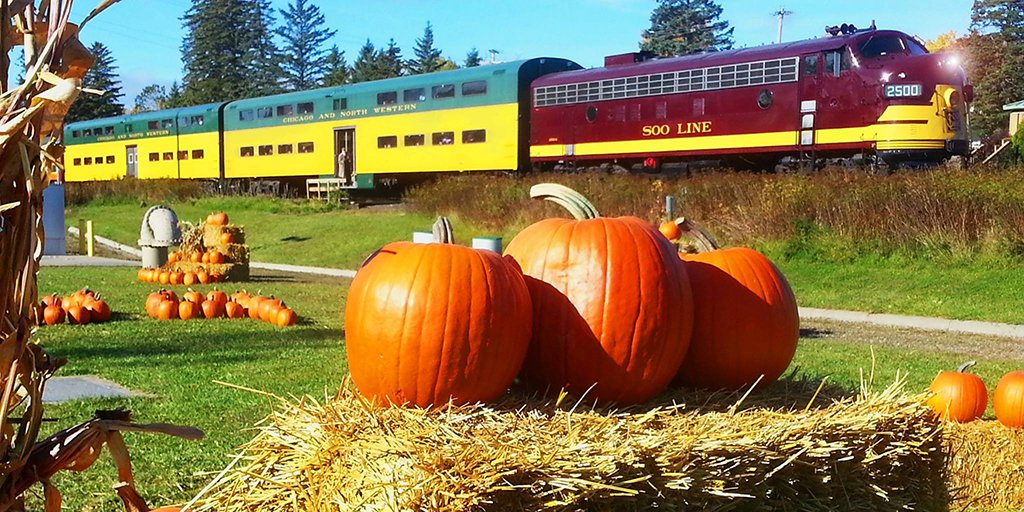 North Shore Scenic Railroad | 218-722-1273 | www.duluthtrains.com
Terror Train
Date: October 26th
Time: 7:00 pm – 10:00 pm
Price: $30.00
Information: Climb aboard for the terror of the biggest and best adults-only costume party in the northland. Board the train at the Duluth Depot and enjoy a 3 -our excursion up the shore and back (no stop in Two Harbors), with live music from the "Derailed Band" in one barcar, and in another car DJ Ron will spin some tunes! Also enjoy two fully stocked cash-bars, pizza slices included with each ticket, and all the fun passengers in costume. The train departs at 7:00 pm sharp from the Duluth Depot (not Fitgers as in the past) and will go up the shore and back (no stops), returning around 10pm, with an optional drop-off in Canal Park for anyone looking to make a "zombie crawl" through that area of town. The train returns to the Duluth Depot around 10 pm. This is a 21+ event and due to the historic nature of the train equipment this is event is not wheelchair accessible. No weapons, including any that look like weapons, even costume ones are allowed on the train. 2-Slices of Dominos Pizza will be included with every ticket, with additional available for purchase.
Spirit Mountain | 218-726-8910 | www.spiritmt.com
Hours for October, 2019
Adventure Park
Saturday 11:00 am - 6:00 pm/Sunday 11:00 am - 5:00 pm

Scenic Chairlift Rides
Saturday 11:00 am - 6:00 pm/Sunday 11:00 am - 5:00 pm

Mountain Bike Park
Saturday 11:00 am - 6:00 pm/Sunday 11:00 am - 5:00 pm
Glensheen Mansion | 218-726-8910 | www.glensheen.org
Follow the falling leaves to Glensheen
View gorgeous fall colors on the grounds of the historic Glensheen estate.


21+ Flashlight Tours
October 25th & 26th
21+ Flashlight Tours are back for two days only this fall. First, you will need to be 21 or older to be on the tour. This is not a tour for kids. As part of your cost for admission, guests will receive a branded Glensheen Flashlight Tour pint glass with, a sippy cup cover. The cover allows you to bring your glass and alcoholic beverage INSIDE the mansion. There is a cash bar with beer and wine available for purchase. (You can leave the flask at home folks.)
What else is new? The addition of one of Glensheen's newest spaces is available to the public for the tour – The Carriage House Living Room. Here, guests will enjoy the warmth of a live-fire – the only working fireplace on the estate.
Inside the mansion, all the lights have been turned off. Each group is accompanied by two guides who will illuminate pieces throughout the house, which allows you to appreciate our rare collection in a new way. (So you can leave your flashlights at home, we have you covered.) Guests on the 21+ Flashlight Tour will see the lower level, first floor, and second floor of the mansion.
Due to the nature of this tour, patrons must be 21 years of age or older. Any intoxicated patrons will be refused admission with no refund. Glensheen requests that guests do not bring their own flashlights.
The Great Glensheen Pumpkin Hunt
October 1st - 31st
Making a tour at Glensheen a perfect not-so-scary Halloween activity for families. There's even a fun prize at the end so you can declare your pumpkin-hunt mastery! 9 PUMPKINS HIDDEN throughout the mansion and estate for kids (or kids-at-heart) to find for the month of October
Glensheen is open daily from 9:00 am – 5:00 pm. All pumpkins can be found on the General Admission Tour. Purchase a tour at glensheen.org to find all nine pumpkins and claim your pumpkin hunt mastery.
Trick-or-Treating at the Mansion
Date: October 31st
Time: 5:00 pm
Information: For the first time in recent Glensheen history, you can trick-or-treat at the mansion. However, it's only open to the first 100 trick-or-treaters and then the front light goes out!
Simply enter through the Formal Entrance at West Gate (London Rd. gate adjacent to the cemetery), then walk down the path to the front door. When you arrive, knock on the door with your best 'trick-or-treat'! Don't forget to take a selfie with the mansion to prove you were there, then exit out the way you entered and enjoy the rest of your Halloween evening.
There is no charge to trick-or-treat. However, Trick-or-Treating at Glensheen is only open to the first 100 trick-or-treaters. Guests will enter and exit through the Formal Entrance at West Gate. West Gate will open at 5:00 pm. Access to the Mansion and Grounds will be unavailable during this time.
Happy Halloween!
Haunted Ship Tours at the William A. Irvin
218-722-7876 | duluthhauntedship.com
The Haunted Ship is not happening in 2019 due to the seawall repair. Look for a bigger, better haunted ship in 2020!
FALL and HALLOWEEN EVENTS
Duluth Experience Dark History Bus Tour
Dates: October 24th, 25th, 27th, 28th, 29th, 30th and 31st
Time: 7:00 pm
(218) 464-6337 * Visit Website
The Dark History Bus Tour shines the light on f Duluth's more tragic stories and some of the reported hauntings that folks around town don't necessarily like to talk about. Duluth has a rich history and we're excited to show you a side of Duluth that you won't see anywhere else! This isn't a hokey, haunted-house tour with folks dressed up like goblins and ghouls. Duluth's dark history is creepy enough on its own!
North End Spooktacular
Dates: October 25th & 26th
Times: Varies by event
Enjoy a parade, kids Pumpkin Patch, vendors, food, a drive-in movie (Monsters, Inc.), 5k and Spider Crawl, a pub crawl, and the 80's Halloween party.
Tiki Freaky Halloween Fun at Edgewater Hotel and Waterpark
Dates: October 25 & 26
(218) 728-3601 * Website
Enjoy Halloween arts & crafts, 4 trick or treat stations, and waterpark fun.
North End Nightmare 5K
Date: October 26th
Time: 5:00 pm
(218) 727-0947 Website
Information: The two-lap course will feature hair-raising, Halloween-themed areas that are guaranteed to entertain participants the first and second time along the route," a press release said.
Grandma's warns that children may find some of the themed areas frightening, so people can call the Grandma's office at (218) 727-0947 before registering if they want to know what to expect.
There are also free Spider Dash races at 4 p.m. for kids 14 and under.
Halloween Carnival
Date: October 26th
Time: 4:00 pm - 7:00 pm
This will be the third year back for the Halloween Carnival at United Protestant. This is a non-sectarian event for families and children. There is no cost for entry, but tickets for the games will be $0.50 each. Most games will have 3 levels of small prizes. The fish pond game has larger prizes, and the cake walk will have baked prizes. There will also be food and beverages available.
Scarium at the Aquarium
Date: October 27th
Time: 10:00 am - 3:00 pm
(218) 740-3474 • Website

This family fun event features plenty of Halloween spirit with trick-or-treating throughout the Aquarium, games and crafts in the lobby, special animal programs all day, and more! Looking to take a break from all the action? A sensory break room will be available as a quiet space with low lighting, fidget toys and quiet activities to find your calm. Allergy friendly event food and non-food treats available at all trick-or-treat stations.Please note that touch pool animals eat shellfish as part of their healthy diet. Look for allergen warnings at those locations. Costumed children ages 12 and under are FREE with paid adult. Aquarium members are always free.
Classic Film Psycho
Date: October 27th
Time: 6:00 pm
(218) 733-7555 * Website
Phoenix office worker Marion Crane is fed up with the way life has treated her. She has to meet her lover Sam in lunch breaks, and they cannot get married because Sam has to give most of his money away in alimony.
One Friday afternoon, Marion is trusted to bank forty thousand dollars by her employer. Seeing the opportunity to take the money and start a new life, Marion leaves town and heads towards Sam's California store. Tired after the long drive and caught in a storm, she gets off the main highway and pulls into the Bates Motel.
The motel is managed by a quiet young man called Norman who seems to be dominated by his mother. On her single night at the motel, Marion soon finds out it was a mistake to choose this motel…
Starring Anthony Perkins, Janet Leigh, and directed by Alfred Hitchcock (1960). $12.00
Zoo after Dark at Lake Superior Zoo
Dates: October 28th, 29th and 30th
Time: 6:30 pm - 8:30 pm
(218) 730-4900 * Website
Explore Zoo grounds during a self-guided flashlight tour and learn more about the 19th oldest zoo in the United States.
Join us for a campfire after the tour – s'mores and hot chocolate will be available for purchase!
AGES 13+ ONLY PLEASE!
Superstition Flashlight Tours: Ghosts of Fairlawn
Date: October 29 & 30
Time: 7:00 pm
(715) 394-5712 • Website
Tour the darkened Fairlawn Mansion with flashlights, and learn about the ghosts of Fairlawn, along with some bizarre Victorian traditions. Tours last approximately 30 minutes. $10 adults, $8 seniors/college students, $5 kids age 6-17; not recommended for children 5 and under. Please bring your own flashlight.
UMD's Alworth Planetarium Hosting Free Halloween Event
Date: October 30th
Time: 6:00 pm
(218) 726-8651 * Website
Join us for the 2nd annual Halloween party at the planetarium! Enjoy FREE planetarium shows, hands-on activities, night-sky viewing (weather permitting) and lots of candy! Costumes are encouraged!
Rocky Horror Picture Show
Dates: October 30th & 31st and November 1st & 2nd
Time: 7:30 pm
(218) 733-7555 * Website
The cult-classic returns with actors bringing the characters off the screen and into the theatre with live, lip-synching performances, prop bags, and audience interaction.
Trick or Treat at Fairlawn Mansion
Date: October 31
Time: 3:30 pm - 6:30 pm
(715) 394-5712 • Website
All ghouls, goblins, and witches are invited to trick-or-treat. Ghosts of yesteryear will be handing out goodies while guests wander the 1st floor. Free to attend.
Malloween at Miller Hill Mall
Date: October 31st
Time: 4:00 pm - 7:00 pm
(218) 727-8301 • Website
Boos and ghouls welcomed to join us in their favorite costumes for some truly Spooktacular fun, including mall-wide trick-or-treating, costume contests in the Food Court and other fun activities!

No masks on individuals 13 and older.
No toy weapons allowed.

Schedule of Events
4:00-6:00pm – Costume Contest Registration
4:00-6:00pm – Disney Jr. Play Date in Barnes & Noble Court
4:00-7:00pm - Trick-or-Treating
6:00-7:00pm - Costume Contest

Costume Contest Categories
6:00pm Sweetest Kid - Ages NB-5
6:15pm Most Creative Kid - Ages 6-12
6:30pm Best Group
6:45pm Best Adult - Ages 13 & up
Spook-tacular Halloween Party at Duluth Children's Museum
Date: October 31st
Time: 3:00 pm – 7:00 pm
(218) 733-7543 • Website
Information: Dress up in your costume and trick-or-treat to each area to play ghostly games, create creepy crafts, get groovin' at the monster mash dance party from 5:00 pm - 7:00 pm, and learn some spooky science. Children must be accompanied by an adult. Held at 115 South 29th Avenue West in Duluth.
Halloween Story Time and Costume Parade at the Duluth Public Libraries
Date: October 31st
Time 10:15 am
(218) 730-4200 * Website
Join us for a special Halloween Storytime with a costume parade through the library immediately following! In addition, trick or treat anytime today at all of our library locations for non-candy treats! In Youth Services.
Main Library - 520 West Superior Street, Mt. Royal Branch Library - 105 Mt. Royal Shopping Circle or West Duluth Branch Library - 5830 Grand Avenue.